Ladies and gentlemen it's that time of the year again! Triple Crown season is upon us, except…not really at all. For the first time in its history, the Belmont Stakes will be run as the first leg of the Triple Crown due to COVID-19. What used to be an absolutely electric month and a half has now been ruined and replaced by what to me is just a bullshit schedule and way to run the season.
In case you're unfamiliar – the Triple Crown consists of three races, the Kentucky Derby, the Preakness, and the Belmont, and all are run in a seven week span in that order. Not only that, but the Belmont Stakes is normally the most difficult of them all because not only is it the last race but it is the longest at a mile and a half. However this year, thanks to coronavirus, they decided for whatever reason to make the Belmont the first race, SHORTEN it three eighths of a mile, and have it not one but TWO MONTHS before the rescheduled Kentucky Derby in September. Oh yeah, and owners aren't even allowed to be there, which should make for a real exciting celebration on TV!! This isn't a Triple Crown, and I hope to God no horse wins it this year because I don't want to even have the conversation of whether or not it counts.
Anyways…despite the fact that I disagree with how this was planned out, it still is a beautiful day in Elmont, NY, and we have a great card as well…time to seize the day. Here's my full breakdown of the 152nd running of the Belmont Stakes as well as my bets for the race.
RACE 10 – Belmont Stakes Breakdown:
#1 Tap It To Win (6-1)
Jockey: John Velazquez
Trainer: Mark Casse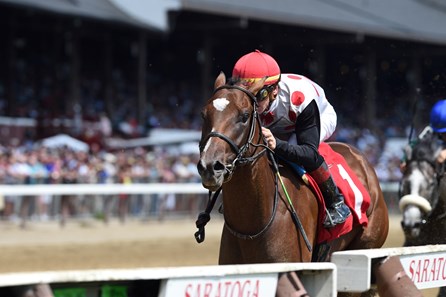 Well shitfire this is an interesting horse…I actually remember watching this one break its maiden last year in August on Travers Day in Saratoga. It was quite an impressive run – he recorded an 86 Beyer speed figure, and beat a solid field with what seemed like ease. However, the next two races that followed, which were stakes races nonetheless, he finished…last. After a brief layoff, he's come back and won his last two races and earned himself qualification into this race just two weeks ago after recording a wild 97 Beyer and easily beating the rest of the pack at 8½ furlongs. I'm not too concerned about the only 16 day break Tap It To Win is getting here – Mark Casse should have him ready to roll by post time. Johnny V is back in the irons and is looking to get a streak going with this one…but I'm not so sure I buy into this hype juussst yet. 6-1 ML odds is good, but I'm curious to see what that's going to look like come race time.
#2 Sole Volante (9-2)
J: Luca Panici
T: Patrick Biancone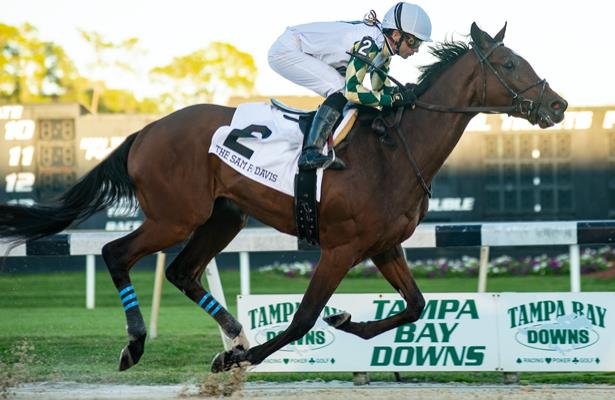 When I looked at this card, there was one thing that stood out to me and that was the consistency of this horse right here. Sole Volante has 4 wins in 6 races, and finished on the board in both of his losses. Not only this, but his average Beyer speed figure on dirt is a 94.5 (four races). He may not have the early speed, but that's quite alright in this mile and an eighth Belmont Stakes race, especially when every single one of his wins has been a come from behind. All of this being said, I do have a couple of issues with this one. First off, he raced just 10 days ago in Florida…and is yet to face a lot of this New York talent as he's only seen Tampa Bay and Gulfstream. I'll be honest, I'm biased towards my New York and NYRA guys as well. So while this one may hit the board and could possibly win, I don't believe it's one I'm considering here.
#3 Max Player (15-1)
T: Linda Rice
J: Joel Rosario
I'll tell ya what, this player is a god damn finisher! Well, except in his debut, but he came damn close that time. Max Player is clearly not the most attractive horse on paper, however there may be some value here at 15-1. Since his debut, he's only improved each time out in terms of speed; recording a 68, 72, and 86 Beyer figure, respectively. He has the late speed needed in a race like this, similar to his neighbor Sole Volante, however I'm not sure his talent is necessarily on par with the rest of the horses. At 15-1 this is extremely tempting to take…and I do happen to like Joel, but I'm really not liking this 10 day turnaround.
#4 Modernist (15-1)
T: Bill Mott
J: Junior Alvarado
I'm a little surprised at this one's price tag, but at the same time I kind of understand it. Modernist has two wins under his belt, and both happened to be at this exact distance, which seems slightly unusual considering he is an early speed horse. That being said, he's facing much tougher competition here today than he has in previous races. He comes from the popular Uncle Mo, whose progeny have tended to perform well at longer distances, but I'm not so sure he'll have enough in him at the end to keep up with the late speed horses in this one.
#5 Farmington Road (15-1)
T: Todd Pletcher
J: Javier Castellano
Pletcher's first horse in this race certainly isn't his best one, but you can never count him out, as he is a 3 time winner of the Belmont Stakes. Farmington Road is a good horse and has been recording Beyer's in the high 80's recently, but he is yet to close in any of the big races he's been in. He's faced some solid competition before and should be used to this distance by now, just gonna need to close stronger here if he wants a shot. Tough not liking this one too much, because I am a big Javier fan.
#6 Fore Left
T: Doug O'Neill
J: Jose Ortiz Jr.
Well if this race was half the distance I'd say this one has a decent shot at it, but I just don't know if Fore Left can handle the mile and an eighth. He's only been able to win shorter races and simply won't have the endurance to keep up. I have no doubt he'll try and break for the lead early, but at the same time isn't that just a suicide in this race for him? I see this one dying out on the final turn and placing in the bottom 3.
#7 Jungle Runner
T: Steve Asmussen
J: Reylu Gutierrez
Let's be real, I could walk 10 minutes down the road from my place here in Saratoga and find a better runner than this one. I'm sorry – but I'm just throwing this one off the table, no writeup necessary.
#8 Tiz The Law (6-5)
T: Barclay Tagg
J: Manuel Franco
Here's the thing about this race…Tiz The Law is the only horse that has won a Grade 1 Stakes race before…Oh yeah, and he's done it twice. When I first looked at this card, I was baffled. I knew Tiz The Law was going to be the heavy favorite, but when you compare him to the rest of the field it's just ridiculous. He's won 4 of his 5 races, 3 of them recording Beyer speed figures above 90 (one being an impressive figure of 100). Fun fact – only 5 of the horses in this race have recorded speed figures above 90 before. The one race that Tiz The Law didn't win was the Kentucky Jockey Club, which is a Grade 2 race at Churchill Downs. Coincidentally, this race was the only time he ran in sloppy conditions, and guess what? There ain't gonna be sloppy conditions today. Manny Franco has taken the winner's circle in his saddle three times before and has another solid shot at it here. Seriously though, it is going to be extremely hard not to take Tiz The Law here, and I hate betting heavy favorites. By post time, I wouldn't be surprised if he went off at 2-5, but I'm very much so hoping the public fades him so I can get some better value.
#9 Dr Post (5-1)
T: Todd Pletcher
J: Irad Ortiz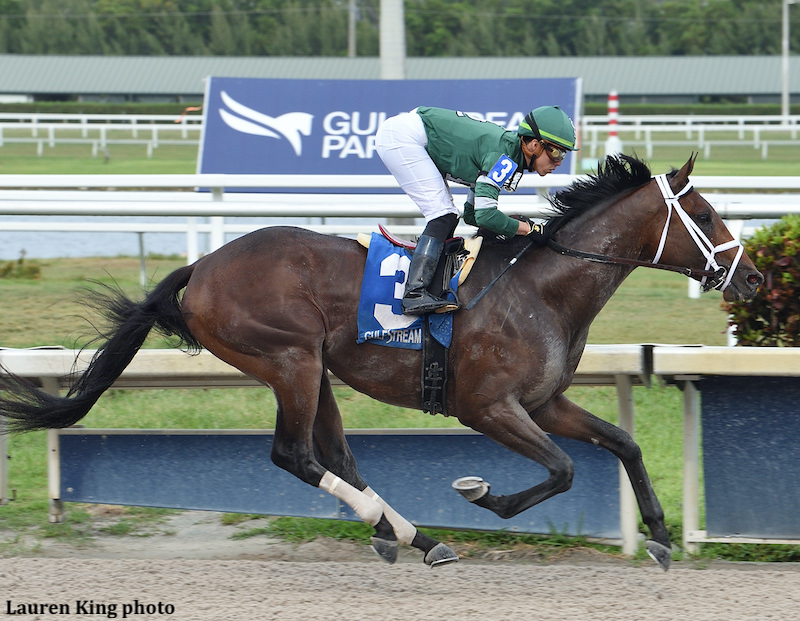 Like I said before, you can't count out Pletcher in big races, well nor can you count out Irad Ortiz…an impressive duo here combined with a horse that has recorded impressive speed figures in the past. Dr Post doesn't have much experience, and has only competed in 3 races in his career. That being said, he's won his previous two after a shaky first time out – but that was a significantly shorter race at only 5½ furlongs, and so far he's only improved with distance. He broke his maiden back in March at Gulfstream against 11 competitors while recording an incredible 96 Beyer speed figure. Last time out, this figure declined a little bit to an 86 (still impressive), but that was in-part due to him being caught in a tight pack for most of the race – it was an amazing run in the end. The 9 is yet to break early for the lead and likes to come from behind, but I believe this will benefit him here with an added sixteenth of a mile.

#10 Pneumonic (8-1)
T: Steve Asmussen
J: Ricardo Santana
Another one with only 3 races of experience in him, Pneumonic is sitting at 8-1 ML odds and has a real chance at finishing in the money in this one. He won his first two races and came from behind in both to win. Coincidentally, he had the outside draw in the two races that he won…and the one race he came up short he started at the rail. Pneumonic and Ricardo return to the outside here, which is an added benefit. While his previous race was unsuccessful, Pneumonic recorded a solid 94 Beyer figure and has only improved each time he's gone out. Aside from all of this, I personally am a huge fan of the Asmussen/Santana combination…especially at Belmont, and especially when they are the slight underdog. Data backs this up, as they've made bettors $4.87 for per $2 bets at Belmont as of recently – a number significantly higher than that of any jockey/trainer combo in this field.
The Betting Plays:
I truly hate betting heavy favorites more than anything, especially in big races like this, however this is going to be one where I make an exception. Flat out I'll say it, Tiz The Law wins this race with ease. Obviously my prediction means nothing, but on paper this just doesn't even look entertaining. With all of that being said, I'm also not the biggest fan of just placing a large bet to win on #8. Instead, I prefer to key the favorite in exotics and include them as singles in my Pick 5 or 6's. Here's what I'll be playing:
Race 10:
$10 Exacta #8 with 9/1 ($20)
$10 Trifecta #8 with 9/1 ($20)
$2 Superfecta #8 with 9/1/10 ($12)
$1 Superfecta box 8/9/1/10 ($12)
Total cost: $64.
Pick 6 (Begins Race 5):
R5: 2/5/7/8
R6: 2/4
R7: 3/4/5/8/10/12
R8: 1
R9: 1/2/4/5/7
R10: 8
$.20 ticket here brings us to a total ticket price of $48; slightly larger wager than usual but it's Belmont Day…it's only right.
Absolutely banking on Tiz The Law to secure this W.
Be sure to give me a follow on Twitter @SpaSaturdays to keep up with the race and other future updates in real time!
One More Thing…If you're interested in these incredible Saturdays In The Spa Shirts, feel free to order HERE.